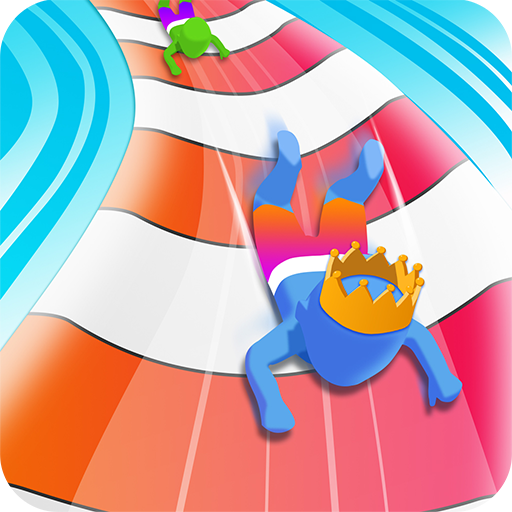 aquapark.io v5.4.0
Last Modified - July 1, 2023
Action
Additional APK Information
The Description of aquapark.io
Summer is a great season for children to go to water parks to have fun in the water. Experience a long, cool water slide. If you choose to stay home, aquapark.io will take you to the same water slide race. In a lively and colorful summer atmosphere on an unprecedented scale, you will compete with other players to become experts in water skiing.
You will engage in racing challenges in a whole new way. At aquapark.io you and others lie down and slide together on a giant water slide. Everyone will use all their skills very skillfully to glide smoothly through the water. Throw and accelerate your opponents on the slide to finish them as quickly as possible. A game with a very high rating and a very impressive number of players is a great choice for you and your friends to always compete together without having to be in the middle of summer. If you need more serious gameplay, Memes Wars, Survivalist: Invasion might be more suitable for you.
Download aquapark.io mod – Raise the level of the water slide races
You are both a player and a visitor to the luxury resort of aquapark.io. Along with it are huge water slides several kilometers in length. You can slide as many times as you like, but you are not alone on this slide. Other competitors and other players will be on the same goal as you. It's all about chasing together, eliminating opponents, and finishing in first place in the shortest amount of time.
Become a water slide expert
During the water slide, the player must avoid obstacles on the slide. Use short acceleration intervals to outrun your opponents. It is also possible to drop them from the race and remove them from the race. The gameplay is very simple, but exciting for gamers new to the game. A design full of creativity and intelligence from developers. It is based on the design of water slides in water parks around the world. Aquapark.io offers a risk-free but very engaging experience.
Show superior skills
Obstacles are challenges players must overcome in order to win. Gather necessary skills most importantly, other players will become your opponents in aquapark.io. The game is divided into several increasingly difficult levels. Your opponent is just like you with the same goal to become the champion of water slides. Other players will see you as an obstacle on their journey to victory. They will stalk the moment that distracts you, knocking you off the slide. To win, be very careful with your opponent's moves and delay the first place.
Comfortable compared with many appearances
It can cling to waterslides and slides, as well as move freely from side to side to avoid obstacles. You can also use these moves to knock opponents off slides when passing them to eliminate powerful opponents from the game. Even better, you'll have the skills to fly off a slide. Aim for a farther position and outsmart all opponents. This requires navigation skills and extremely accurate distances. If you don't calculate carefully, you will get kicked off the track and hit the ground, taking a loss. So let's calculate wisely and surprise the opponent.
In addition to the basic humanoid outfit with yellow skin and a swimsuit, players can choose from a variety of pretty and colorful outfits. You can also completely change the skin color of the character you are playing with.However, costumes are not very important in the game. Mainly, the gameplay is very unique and engaging which makes the game a success. In any case, changing outfits creates excitement for players to explore and participate in colorful races.
Gameplay elements make it attractive to players. Aquapark.io will give you a brand new summer experience like you've never seen before. Instead of going out in the hot summer, enjoy a colorful and comfortable water slide with your smartphone. It's so relaxing and full of laughs fun to try with friends while gathering at home. Download the aquapark.io mod to challenge the water slides and come home fast and cool!
More from developers VOODOO