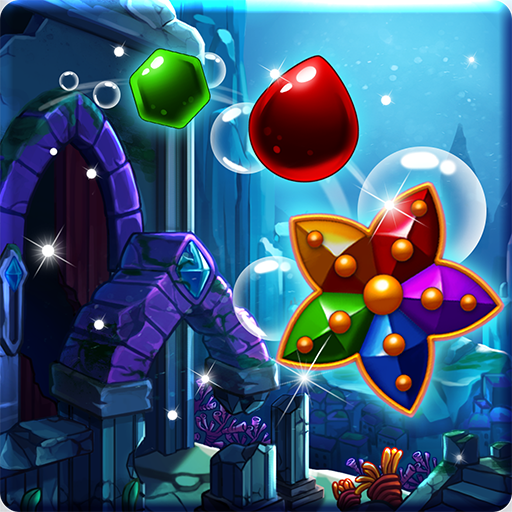 Jewel Water World MOD APK (Auto win) v1.27.1
Last Modified - July 1, 2023
Casual
Additional APK Information
The Description of Jewel Water World MOD APK (Auto win)
Jewel Water World is a game with gameplay similar to classic diamond matching games. But besides the mere gameplay succession, the game made an unexpected breakthrough. The game is set in a city deep under the sea with tons of treasure. Use your ability to think, calculate and strategize to smash the fastest jewels. You only need simple controls to slide up and down and slide left and right to own the traditional way of playing. Make sure that 3 or more stones of the same type are aligned horizontally or in the same column. However, it is difficult for players to simply pass on very challenging levels. Gamers should consider carefully before taking their actions.
Download Jewel Water World mod – Explore ocean treasures
A lightweight puzzle game that is easy to get used to but difficult to master. Each level contains its own puzzles, arrangements and challenges. So, there is no general formula that will help you get through the gate reliably. Instead, use your wisdom and experience gained through each level. In addition, players must make reasonable use of gems with unique features. For example, there are power-up stones that help break rows or columns, while there are stones that are bombs. Play Jewel Water World to discover underwater treasures.
The gameplay is simple but difficult to master
Diamond breaking games have always been a monument to the puzzle game genre. Jewel Water World also promises to be a successful game with classic match 3 gameplay. Many treasures and jewels of every shape and color the game creates await gamers. The game has a total of 500 puzzles corresponding to 500 engaging levels of increasing difficulty. Each game screen offers different tasks that require gamers to make intelligent calculations. The number of moves is limited. Use them wisely for maximum effect. Jewelry designs also vary, with different shapes and eye-catching colors. Players can also purchase support items using the gold received after each level.
Lots of levels
As mentioned earlier, this game is a match-3 game that isn't too weird. It is best to move the gems next to each other so that at least 3 are of the same color. You can also get power-up gems by destroying 4-5 of them at once. Power-up stones help you destroy vertical lines, horizontal lines, or lots of stones around you. Also, if you clear 6 jewels in one turn, a 7-color starfish will appear. This unique starfish will help you destroy all jewels of a given color on the screen. However, the player has to face many obstacles on each game screen. The number of moves is limited, but the number of gems and sea snails to collect is not small. Therefore, it is necessary to consider that each move favors the next step.
Fascinating graphics
The game offers gamers 500 levels to count, conquer and return the rewards they deserve. Each level has different puzzles that require the player's logical thinking skills. A simple tweak in the first level is a tutorial screen for players to learn how to play. Later, however, the difficulty of the puzzles gradually increased. Specifically, at level 10, there are 25 moves that only require you to collect two seahorses. However, when you reach level 18, you still have 25 turns, but you should have 5 seahorses and 42 sea snails. It's hard to imagine once you reach level 99 or 100, the puzzles will still be full of challenges.
The graphics are also a point worth mentioning in this great game. Gemstones come in all kinds of colors in shapes, rhombuses, triangles and teardrops. When the jewels are broken, effects and points appear, bringing joy to players. In addition, when the power-up function is activated, the explosion effect reaches its peak. Players will be overwhelmed to see the gems break in a unique way. It's not over yet. The scenes behind the game screen are also fantastic. Stunning sea landscapes and unusual rock formations blended with sea watercolors will help satisfy gamer's vision.
The simple gameplay of diamond matching games is no longer strange. The game has a beautiful backdrop of the sea and there are scenes that are difficult to describe its beauty. Players will also be amazed at the power-up effects the game creates. Many of the same levels and very challenging missions await gamers. Download the Jewel Water World mod to discover mysterious treasures under the sea.