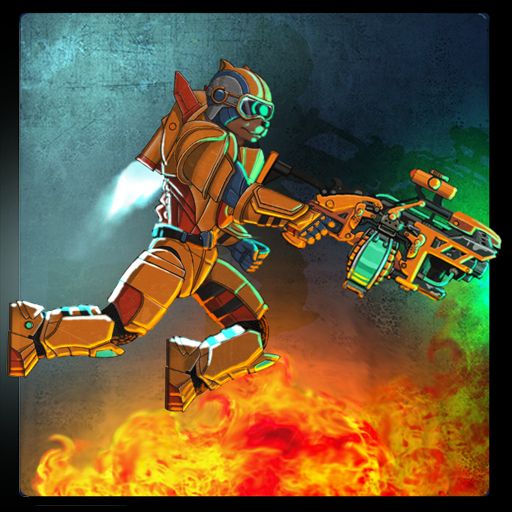 Wardog MOD APK (Unlimited Money/Health) v1.2.6
Last Modified - June 30, 2023
Action
Additional APK Information
The Description of Wardog MOD APK (Unlimited Money/Health)
Wardog is an action platformer game with legendary role-playing elements. The plot of the game tells about the rich civilization of intelligent dogs. They boarded a spacecraft to explore the planets scattered across the galaxy. Whether your crew is safe or not depends entirely on your and your teammates' abilities. It's relatively similar to other laning games where you just keep moving forward. Many monsters appear and attack you. This location has traps waiting for you to engage. After completing all the requirements and tasks on the game screen. After that, all you have to do is go through the gate at the end of the road and go to the next screen.
Download Wardog mod – Play as a smart dog with a job as a mercenary guarding the crew.
Choose the weapon that suits you best and enter the world of sci-fi. Choose between a soldier, a retired paratrooper, or a novice apprentice. Whatever you are, you are responsible for the lives of your crew. A dangerous but exciting adventure awaits your participation. Many exciting planets with different characteristics are waiting for you to come and explore. Because they are smart dogs, the player's character still has a normal human body. It was designed in the shape of a smart dog by simulating only the face.
Once you get to where you need to act to control your character, simply follow the instructions displayed on the blue virtual key button in the corner of the screen. The two left and right arrow keys in the left corner of the screen move your hero back and forth. On the left is the up arrow key to jump up. To attack, players simply move the circular aiming key in the right corner towards the enemy. Also on the screen are virtual keys in the form of a circle with an icon inside. These virtual keys are buttons that support players, more powerful actions. Along the way, there are a lot of enemy astronauts moving back and forth.
Multiple terrains
Alien Wars already with sci-fi features. Players can explore different terrains. If you fight on a different planet, your guns will have different energy sources. For example, on an uninhabited island in pouring rain. A statue floating in the sea can be a lever for you to move around. Or in the mountains covered with snow and ice, even guns emit white smoke. Or, being close to a volcano, hot gases blanketed it everywhere. There are many cracks under the ground with ancient stones and bricks.
Various Weapons
As a skilled astronaut, your character can use a variety of weapons. So, Wardog offers a wide range of weapons. After certain victories, players may receive skill cards, outfits, or weapons. It can be machine guns, laser guns, atomic guns, grenades and tons of other interesting weapons. You can choose the right weapon according to your habit of controlling and using it. The stronger your weapon, the faster you fight enemies. Guns come in a variety of colors, from orange to white. You can fire a bullet or multiple bullets.
Unique Enemies
The number of enemies varies according to the terrain of each region. Each enemy has a different way of attacking the player, which makes it interesting. For example, infantry units in gray uniforms are constantly on the move, as if standing guard. Or drones moving through the sky and shooting bullets. A team of underground monsters with bizarre forms like moving slimes. There is also a vast ocean below with ugly-looking mutant fish monsters. The interior of the forest also does not disappoint when there are giant monsters roaring loudly.
Occasionally players may encounter additional levels. They are opened as gifts to help players collect more in-game rewards. You can control a spaceship that fires bullets continuously to attack small monsters as they approach. They can't attack you, so you can kill them carelessly to earn money. The important thing here is speed. It determines how many gifts you can receive. Download the Wardog mod to become a dog with a smart mercenary job protecting the safety of your crew.
More from developers Studio WW Games