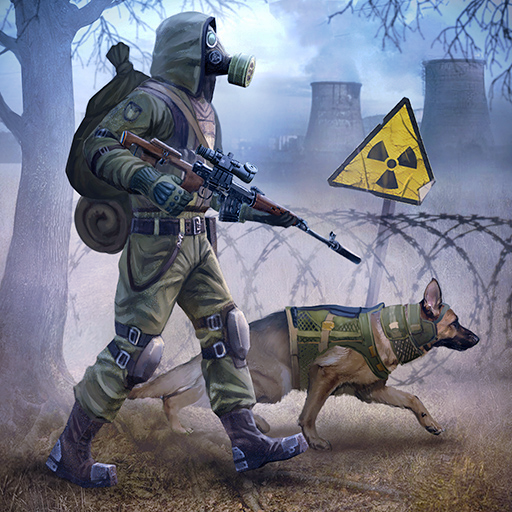 Dawn of Zombies: Survival v2.194
Last Modified - June 30, 2023
Action
Additional APK Information
The Description of Dawn of Zombies: Survival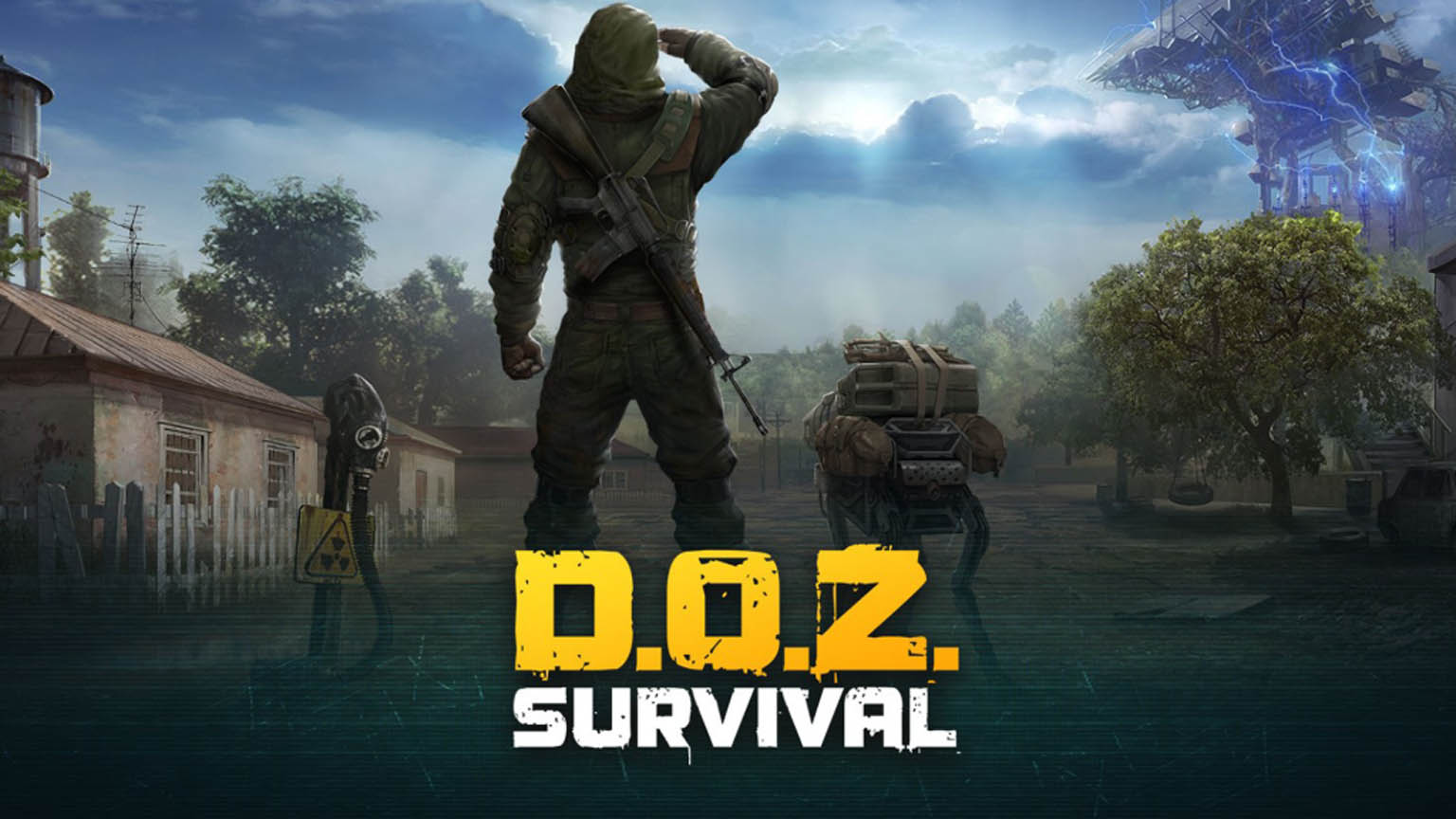 Join online gamers on an epic adventure through the deserted lands. Survive the hardship with all your skills and abilities. Collect and use the scarce resources from the war-torn world. Build and upgrade your base to protect yourself from enemy attacks. Gather the other survivors and discover the secrets of the territories. Find out everything about this amazing game from the famous studio Royal Ark with our reviews.
Story
In this game, players will be playing as a lucky survival of a post-apocalyptic world in which mankind's civilizations were razed to the ground after the countless wars and disasters. Now, there are only a few survivors scattered around looking for a way to make it in this devastated world.
Left to their own devices, players must protect themselves from dangerous monsters, build their base and collect resources. Find him because he is the only one who can help you recover your memories.
Features
Here you'll find all the exciting features that the game has to offer.
Build your own base from scratches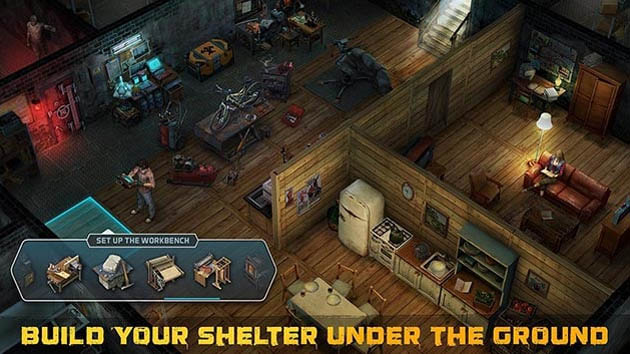 In the world of Dawn of Zombies: Survival after the Last War, danger lurks around every corner. A single moment without focus and you could probably lose your life. That's why it's important to have a safe hiding place where you can protect yourself from the dangerous world.Start a handy underground base. Keep resources safe to sustain your life and keep building your base to the surface. Build impressive defenses to protect yourself from monster attacks.
Survive the scarce world
As the resources are running out, players have to face all kinds of dangers to get the valuable resources. Sometimes people can fight or even kill themselves for just a piece of bread. you're not the one on the ground.In this dangerous world, your energy can quickly be depleted due to hunger, thirst, radiation, or disease. Don't leave your character in a low energy state for too long or you won't make it back to your base.Make sure you bring enough food and drink with you for your quest as this will help recharge your energy. In addition, sleeping at your base would also fill up your energy bar.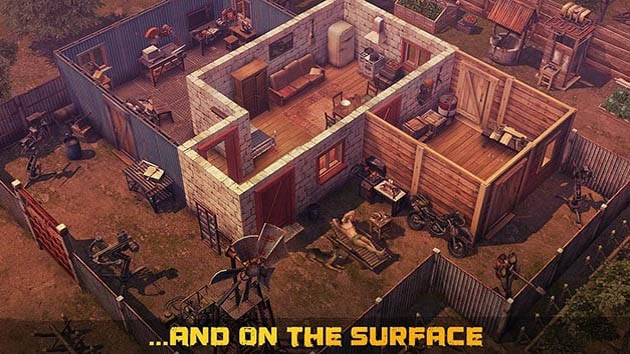 Embrace an exciting adventure
It's time to a company the character on his adventure in this strange world. Explore the world of Dawn of Zombies. Follow the stories and meet dozens of characters, each with their own story. Take on varied quests and collect valuable rewards. Discover random notes that will introduce you to heartwarming stories.
Ride whenever you want
And if you're not a fan of walking, in Dawn of Zombies players can choose all kinds of vehicles to get around. Ride your bike or smash through the zombies with your monster cars. With the crafting and trading features, there is no limit to what you can get for your characters.
Realistic gameplay with lifelike elements
To enhance the overall experience, Dawn of Zombies also offers realistic elements like daylight system, volumetric fog and so on. If you play the game long enough, you will feel like you are actually trapped in this chaotic world.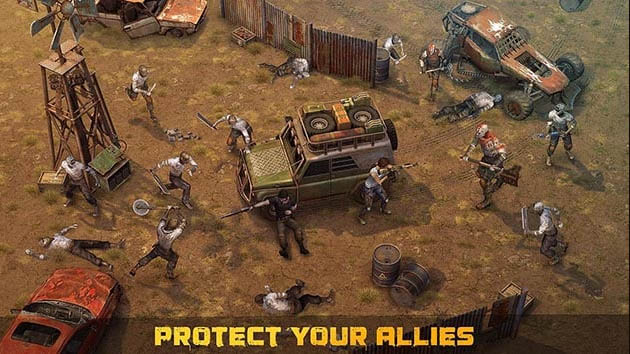 Explore the large maps with lots of discoverable elements
The world in Dawn of Zombies: Survival after the Last War is spread across a large map with multiple locations for players to explore. Explore the aberration zones and collect valuable artifacts. Venture through the dark forests, wastelands and challenge the tough zombies, bandits or wild animals in epic battles.You also have a chance to collect valuable prizes that randomly appear on the map. Look for awesome airdrops, hidden chests and so on. And for some real action you would love to explore the exciting dungeons.
Encounter other groups of survivors
Although the population has greatly decreased, there are still survivors in the world of Dawn of Zombies. Therefore, players have the opportunity to explore the land and encounter other groups of survivors. Get involved in varied activities with the other groups and factions.Start trading and communicating with different factions to collect valuable resources and technologies to build your facilities. Become a skilled fighter and craftsman while making a name for yourself among other factions and characters. Unlock specific events and enjoy exciting gameplay.
Craft all the items you need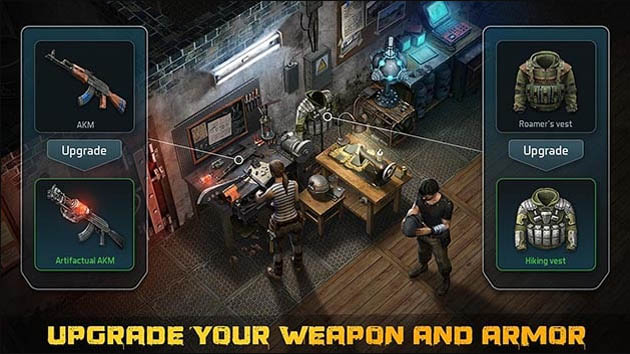 And to help you survive the scarce and dangerous world, it is always important that you are equipped with capable weapons and equipment. Explore all crafting options as you learn to craft over 60 types of weapons, from the AK, M-16 to the Makarov pistol and so on.In addition, throughout the game you will have the opportunity to discover over 150 different blueprints for armor, vehicles and more. With skills materials, a man can create anything in this world.
Exciting combat with varied approaches
Engage in exciting battles while taking on various opponents. And you have different approaches to certain opponents. Fight them in stealth mode, using the bushes to sneak up on you and take out your enemies. Build your own spy drone and scout enemy bases, then choose the right moment to attack. Or, if you prefer, you can charge out with a machine gun and take out everything that gets in your way. Either way, it will be incredibly fun and entertaining.
Complete epic events to earn your rewards
There are also random events to discover while enjoying your time in Dawn of Zombies. Complete exciting events that include rescue and protection missions. Defend your allies from zombie attacks and earn the prizes you deserve.
Explore awesome online gameplay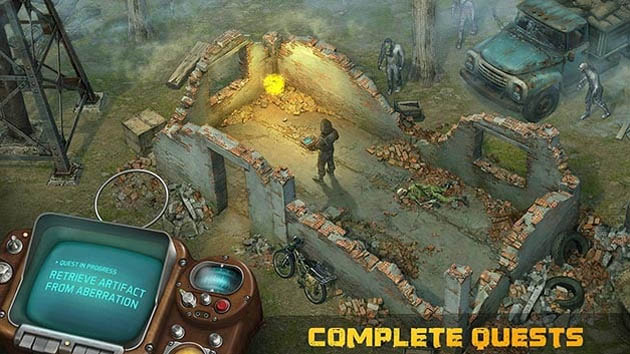 And if you want to go online, a varied online gameplay is available in Dawn of Zombies: Survival after the Last War. Join your friends in multiplayer survival game mode, build your base, gather the resources and team up to defeat the invading zombies.Travel to huge settlements where you can meet other survivors in Dawn of Zombies: Survival after the Last War. Meet new people and trade valuable items. In addition, you can join or create your own clan. Upgrade your base and be ready for epic clan wars.
Free to play
The game also features epic MMO raids where players can team up to defeat epic bosses and earn incredible loot. Take part in rewarding co-op PvE quests and experience addictive gameplay with Dawn of Zombies: Survival after the Last War.
Visual and sound quality
Graphics
Last but not least, the game even allows online players to have their own pets and NPC allies who can help you in your adventures.Despite all the exciting features, the creators of Dawn of Zombies: Survival after the Last War still manage to surprise us with their pricing. However, the game is currently free to play for all Android gamers.
Sound/Music
Just access the Google Play Store and get the game on your devices. Embark on your journey into endless adventures in Dawn of Zombies: Survival after the Last War.
How To Install Dawn of Zombies APK with OBB data file
APK install it on your device.
Extract the OBB file to /SDCARD/Android/obb/com.survival.last. Ensure that the OBB file (main.523.com.survival.last.obb) sits within the com.survival.last folder.
Start the game again. Enjoy!google play store.
Download Dawn of Zombies Mod latest 2.194 Android APK
With realistic 3D graphics, Dawn of Zombies: Survival after the Last War introduces players to a world with all the devastating elements. Elaborated and detailed designed monsters, infrastructure and characters create a lifelike experience for every Android gamer.